When:
November 23, 2021 @ 7:00 pm – 10:00 pm
2021-11-23T19:00:00-08:00
2021-11-23T22:00:00-08:00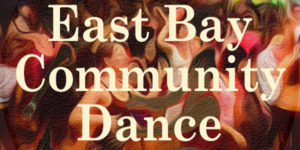 This is an indoor, *vaccinated-only* dance event sponsored by EBCS and produced by Dan Zemelman (DJ DZ). With the disappearance of so many beloved dance events during the pandemic, we want to offer a new event modeled after Ecstatic Dance, Open Floor and Five Rhythms to get dancers back on the floor and connecting with each other safely.
East Bay Community Dance will occur every Tuesday. Doors open at 7:30pm and the dance is from 8-10pm.
For now, there not be food or drink served at East Bay Community Dance. But The Well Organic Kitchen is perfectly situated next door, and serves drink and food until 10pm!
Tickets are $20 to $22 presale (or Venmo day of), or $20-$22 cash at the door.
**Due to EBCS' capacity, we could sell out, so better to buy advance tickets!
***We are now a 'boosted-only' event. Masks are optional. EBCD is pleased to offer a dance space for those who desire a fully-vaccinated dance experience. There are three ways to show your vaccination status:
1. Bring your completed vaccination card to the dance.
Once we have reviewed your card, we will add your name to our list of dancers who have been vaccinated and no longer need to show proof of vaccination status at the door.
If you forget your vaccination card, we will help you to download it via the State's myvaccinerecord website. People who are unable to show proof of vaccination will not be admitted.
We look forward to dancing with you!